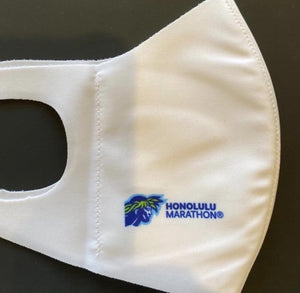 The Mizuno / Honolulu Marathon Face Cover is made with soft, breathable, high performance athletic fabric.  It comfortably hooks around your ears for an easy fit.
Designed to gently wrap the face line, there is less stress such as tightening around the ears. The hooks around the ears are made of the same soft, athletic fabric, so there's no chafing with this mask. Also, the front center seam on the mask creates structure in the fabric to allow you to speak comfortably.
A double layer of fabric is focused at the mouth area to protect yourself and others. It is washable and reusable. This mask is not a medically graded mask nor Personal Protective Equipment (PPE).

Color: Navy, White
Size: S, M, L
S Size: Length 12.3cm, Width 31.6cm
S Size: Length 4.8inches, Width 12.44
M Size: Length 14.3 cm, width 32.6 cm
M Size: Length 5.6 inches. Width 12.8 inches
L size: Length 16.8 cm, width 33.6 cm
L size: Length 6.6inches, Width 13.2 inches

Composition: (front side) 84% polyester, 16% polyurethane, (inside) 100% polyester